Dan
This user hasn't shared any biographical information
Posts by Dan

From Borehamwood to Bushey and as far north as Leeds and Manchester. We even crossed the Atlantic and Pacific to reach New York and Auckland!
On the weekend of 8th-10th November 2013 over 400 people attended dinner parties, brunches, lunches and afternoon teas in aid of Nicki's Smile. Over £7,000 has so far been raised and the donations are still coming in. This takes the grand total raised by Nicki's Smile since our launch in early 2011 to over £390,000!
During the weekend the Nicki's Smile Twitter and Faceboook feeds were abuzz with pictures and menus from events with highlights including; boeuf bourguignon, tarte tatin, apple and brandy soaked raisin strudel, white Russian cupcakes and chocolate Kahlua mousse (not all at the same event).
Below are some pictures of creations that you may have had the pleasure of experiencing first hand. Nicki would definitely have approved!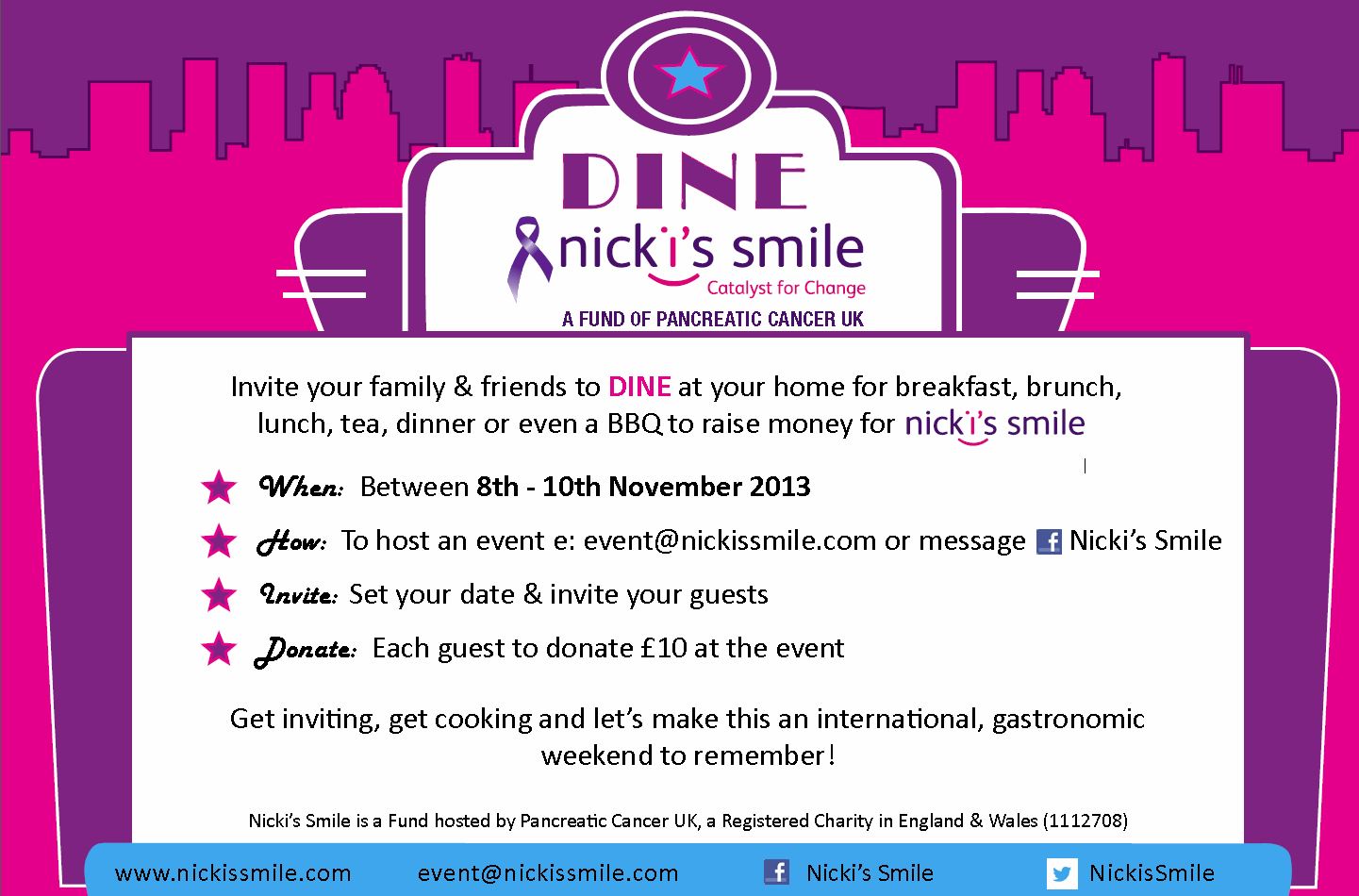 The Dine For Nicki's Smile weekend is now just one month away! We're already hosting events as far away as Auckland, Buenos Aires and New York.
Hosting couldn't be easier! Just e-mail event@nickissmile.com and we'll send you a host pack. 
What: Invite your family and friends to dine at your home for breakfast, brunch, lunch, tea, dinner or even a BBQ to raise money for Nicki's Smile
When: Taking place at a time of your choosing during the weekend of 8th – 10th November 2013
Invite: Set your date and invite your guests
Donate: Each guest to make a donation of £10 to the charity
Remember, to host an event you must e-mail event@nickissmile.com. We'll then e-mail you with all the information you need in order to host your event – don't worry, it's very straightforward J.
Please help us spread the word by forwarding this e-mail to your family and friends, wherever they are in the world.
Let's make this a weekend to remember!
Thank you for your continued support.
Dan and the Nicki's Smile Committee

The Radlett Theatre played host to a production of 'The Elves and The Shoemaker' on 29th September that delighted the sell-out 300 strong audience whilst raising funds and awareness for Nicki's Smile.
Reworking a classic Brothers Grimm children's tale the Stuff and Nonsense Theatre Company put on a show including music, puppets and comedy that entertained all the family.
With the many children in attendance occasionally on the edge of their seats, and frequently off them, shouting encouragement at our heroes Sam and Belinda it was the presence of the Elves that really captivated their attention. There will have been more than a few requests for magic shoes and Elves on the car journeys back to reality after the show.

If you fly from Bucharest to Budapest it will take you just under two hours. Or you can cover the 850km by bike in 6 days, with no support.
Richard Haring chose the latter option and whilst struggling up the Transylvanian hills in 35C heat he realised someone should be benefitting from his pain and decided to raise money for Nicki's Smile, a cause close to his heart. In just a few days he's raised £2,500 and you can continue to donate here: https://www.justgiving.com/Richard-Haring
No stranger to reassembling his bike in foreign lands, carrying his own luggage and handling his own repairs, you could previously have spotted Richard wending his way through the Balkans or the Caucasus amongst other far-flung outposts.
For Richard the pleasure in undertaking a challenge that most readers would consider more akin to punishment is myriad, "I love waking up not knowing where I'm going to sleep. I love not knowing how the day will pan out. I love seeing ordinary people happily living their lives as I pass by on my bike. I love the physical challenge of cycling great distances. I love climbing the mountains. I love the feeling of the hot sun on my skin. I love listening to my music. I love daydreaming as I cycle. I love trying to speak a new language. I love trying the local food."
The best part of Richard's day on this trip would come, perhaps unsurprisingly, towards the end, "Cycling at about 6pm each day is always a pleasure. The sun is setting and you can feel that the locals are finishing their working days. The road is quieter, the temperature cools (albeit only slightly to about 30C!) and the cycling is very peaceful. I always find some extra energy from somewhere."
Bucharest to Budapest wasn't all plain cycling though with the hardest part being, as Richard explains, when "I cycled 15km slowly up a gravelly dirt track only to be told I had gone the wrong way and had to cycle back the 15km to get back on track. 30km of unnecessary cycling is mentally tough to deal with when you're cycling 140km per day."
As for the next challenge? "Almost certainly Africa, although I'm undecided where exactly. I have a couple of routes planned in my mind, but I'll see how I feel nearer the time and make a decision."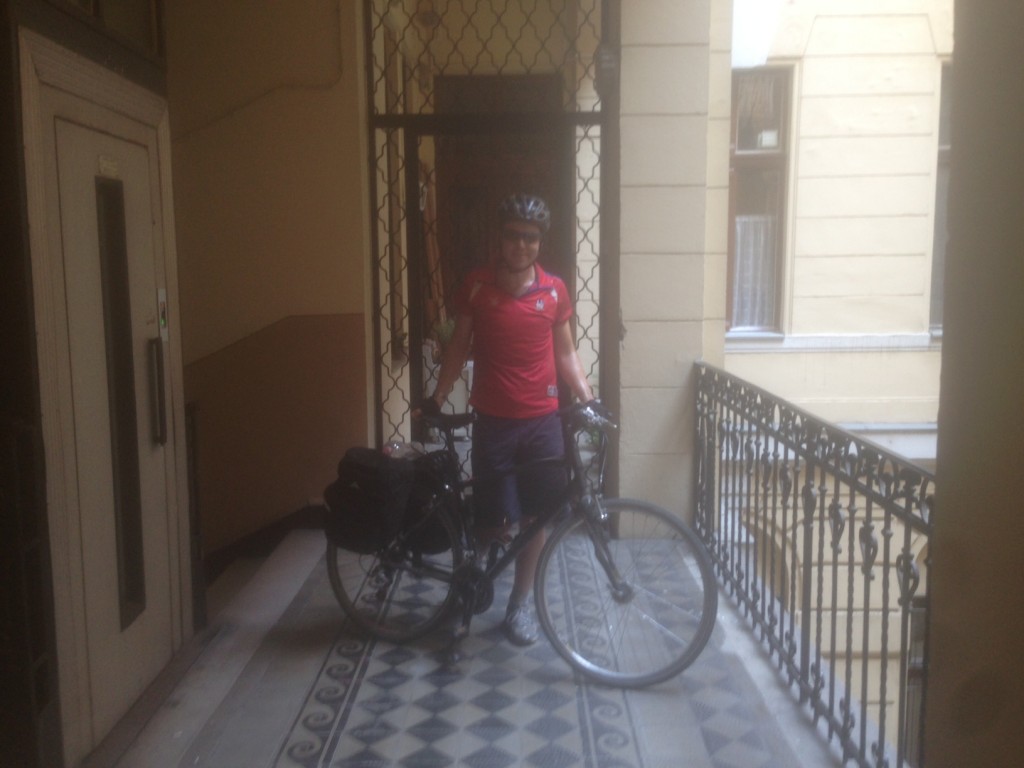 Have your children heard the one about the elves and the shoemaker? Well, now's their chance!
Nicki's Smile is presenting 'The Elves and The Shoemaker' at the Radlett Centre.
This staged adaptation of the classic children's story will be retold with stunning puppets, music and surprises aplenty in a show for everyone aged 3 and above.
Tickets are available now from the Radlett Centre Box Office on 01923 859 291, priced at £15 each. The fun starts at 14:00 on Sunday 29 September 2013. For more information and to book online please visit the website:
http://www.radlettcentre.co.uk/What-s-On/Children/The-Elves-And-The-Shoemaker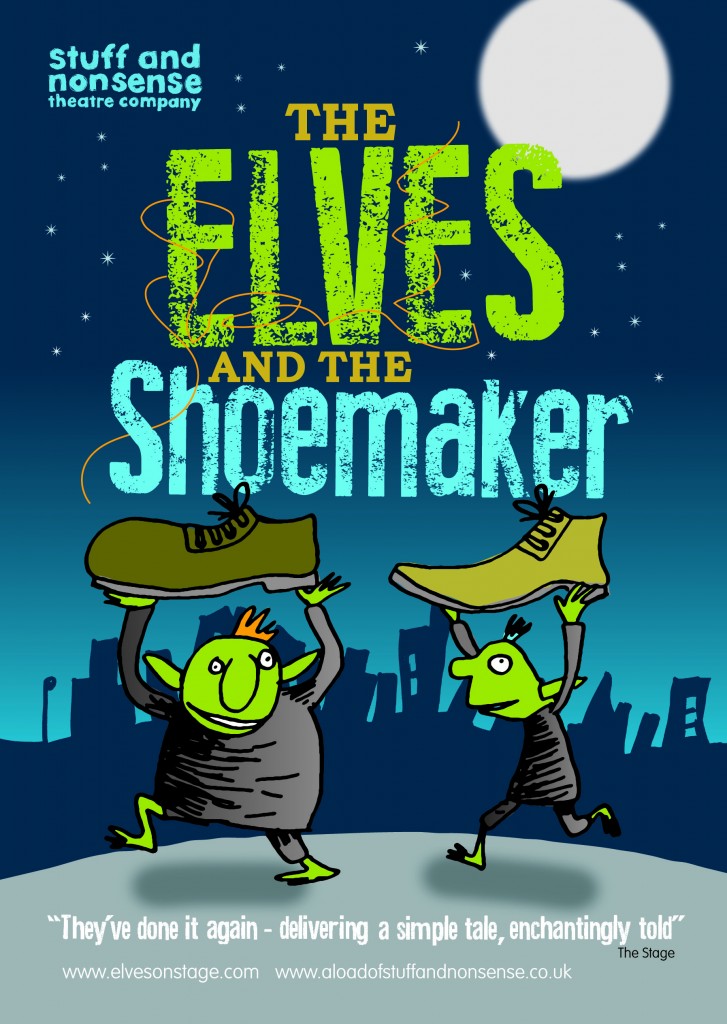 They may not have crossed the finish line first but the Nicki's Smile runners will have felt like winners by raising an incredible £39,000 at the 2013 London Marathon.
On an unexpectedly warm spring day nearly 40,000 runners took to the streets of London including eight wearing the purple of Nicki's Smile and Pancreatic Cancer UK. They were cheered on by half a million people who lined the route to offer their support as well as soak up the sun.
The team from XL Insurance who have chosen Nicki's Smile as their UK Charity of the Year included James Martin, Philip Hogg, Claire Paternoster, James Benn and Teresa Ngeow and were led home by the speedy Jack Morris in a time of 3h 15m.
After he had recovered his breath, team leader James Martin commented, "That has to be the toughest physical and mental challenge I have ever faced but was also one of the best days of my life.  The atmosphere and support from the crowds all the way along the route was simply unbelievable.  Plus we mustn't forget that we've raised a huge amount of money for charity which was a huge motivator on the day.  We are all extremely grateful to everyone who sponsored us.  Now I think we all deserve a bit of a rest, and maybe a couple of beers."
Marc Cane also shared his thoughts, "A massive thank you to those who sponsored me to run this year's London Marathon, the money will help to conduct vital research into Pancreatic Cancer. Without the support of the many donors and the estimated 500,000 spectators I couldn't have completed the 26.2 miles. All those people cheering my name around the course and particularly my friends and family at the key stages of half way and near the end made it a very emotional and exciting experience. I can't wait to run it again!"
Rob Fosterman had the marathon under control, at least for a period, "I found it great until about mile 16 and was on pace with my timings, but the warm weather, the need to take on more liquid and the lack of shade made it tough, both physically and mentally."
However help was on hand from the famously supportive London crowd and also an unexpected source, "Once I passed mile 23 and hit the Embankment it was fine, as you know you are near the end. I took my headphones off and just let the crowd take me home and tried to pick up my pace as much as my body would let me. That is definitely the best part, but it is tough to enjoy. Having Alex Oxlade-Chamberlain (Arsenal and England) hand me a Lucozade and tell me to keep going was a nice touch!"
Rob summed up what running for Nicki's Smile meant for him, "You remember it is for a great cause, people have been incredibly generous with their sponsorship – which I am grateful for, and it really is a great thing to have done and a great cause to raise money for."
If you are interested in being part of the Nicki's Smile team for the 2014 London Marathon then please contact info@nickissmile.com for more information.

The final training runs have been completed and with the London marathon just five days away eight athletes are now set to raise thousands of pounds for Nicki's Smile.
The effort is spearheaded by the team from XL Insurance who have chosen Nicki's Smile as their UK Charity of the Year and consisting of James Martin, Philip Hogg, Claire Paternoster, James Benn, Teresa Ngeow and Jack Morris have together raised over £30,000.
Whilst for some of the XL Insurance team it will be their first experience of running 26.2 miles for Teresa Ngeow it will be her seventh marathon in total and second of the week after successfully completing the Brighton marathon on Sunday!
With Rob Fosterman and Marc Cane also running the marathon and Debbie Ferrer running the BUPA 10k in May a further £5,000 should be added to the total with the combined efforts of all the athletes meaning that over £35,000 is set to be raised for Nicki's Smile.
Through a seemingly never-ending winter the Nicki's Smile runners have endured wind, rain, snow and freezing temperatures as well as overcoming numerous injuries in an effort just to arrive at the start line. Running his second marathon, and with both knees bearing scars of serious operations, Rob Fosterman certainly won't miss 20 mile training runs through a blizzard and is looking forward to a drop of alcohol as he crosses the finish line.
Neither beating the course record of 2h 4m 40sec nor running further than Mo Farah in his London (half) marathon debut have been the motivation for the hundreds of miles covered during training. Each athlete has their own personal reasons for running – whether it's ticking something off a bucket list or proving their spouses wrong – and also their own reasons for wanting to support Nicki's Smile.
This is a subject especially close to home for some of the team who either knew Nicki or have lost close family or friends to pancreatic cancer. As they have learnt more about Nicki's Smile and about pancreatic cancer they have become even more motivated to raise funds for research into early diagnosis techniques and help improve the horrifying survival statistics: more than 8,350 people in the UK are diagnosed every year and of these, fewer than 20% survive more than 12 months and only around 4% survive for 5 years or more.
The support on the streets of London for the runners on race day is legendary and James Martin commented on the support that the XL Insurance runners had received in the build-up, "The team has been overwhelmed by the support they have received from friends, family and colleagues all around the world and want to say a huge thank you to everyone who has sponsored them so far."
There are still five days to contribute on one of the links above and you can also come down and support the whole team on Sunday. Nicki's Smile will be tweeting from the marathon so follow us @NickisSmile and don't forget to tell us where you're standing on the course on the big day.

By Dan Summers, Nicki's Smile committee member
In July 2012 Nicki's Smile committed £125,000 to a research study aimed at the earlier detection of pancreatic cancer. On 29 January 2013 I visited Cold Spring Harbor Laboratory (CSHL), New York where this research is being conducted under the supervision of Dr David Tuveson MD, PhD.
On a cold winter's day I took the Long Island Rail Road out of Penn station, Manhattan, arriving one hour later at CSHL's scenic main campus which spans approximately 120 acres along the western shore of Cold Spring Harbor on the north shore of Long Island.
Since being founded in 1890, CSHL has been home to eight Nobel laureates including Dr. James Watson, co-discoverer of DNA's double helix. Today CSHL is a preeminent international research institution, achieving breakthroughs in molecular biology and genetics and enhancing scientific knowledge worldwide.
My host for the day was Dannielle Engle, a postdoctoral fellow, who explained that the summer of 2012 saw her initial challenge being to facilitate the relocation of the Tuveson laboratory to CSHL from Cambridge University. The transfer was finally completed in August, moving in to the recently opened Leslie and Jean Quick Laboratory, but two months later Hurricane Sandy led to the temporary suspension of operations. Fortunately CSHL survived the elements intact and subsequently supported other cancer research facilities in the New York area get back on their feet after power outages led to the loss of research.
During the tour of the state-of-the-art laboratory and campus it was explained to me that the study focusing on pancreatic neuroendocrine cancer that Nicki's Smile is helping to fund has two aims. The first is to create a model that can produce circulating blood proteins similar to the main tumour marker (CA19-9) used in the clinical management of patients with pancreatic cancer. The second is to use this model to look for novel diagnostic biomarkers. Whilst still at an early stage of model development and validation the overall goal is develop these biomarkers through clinical testing as a test for pancreatic cancer detection and treatment monitoring.
The immediate challenges in the coming months include continued development of the modeling process and boosting the number of staff working in the Tuveson laboratory. With thanks to Dannielle Engle and the team at the Tuveson laboratory for their hospitality and taking time out of their research to show me around the impressive facilities at CSHL.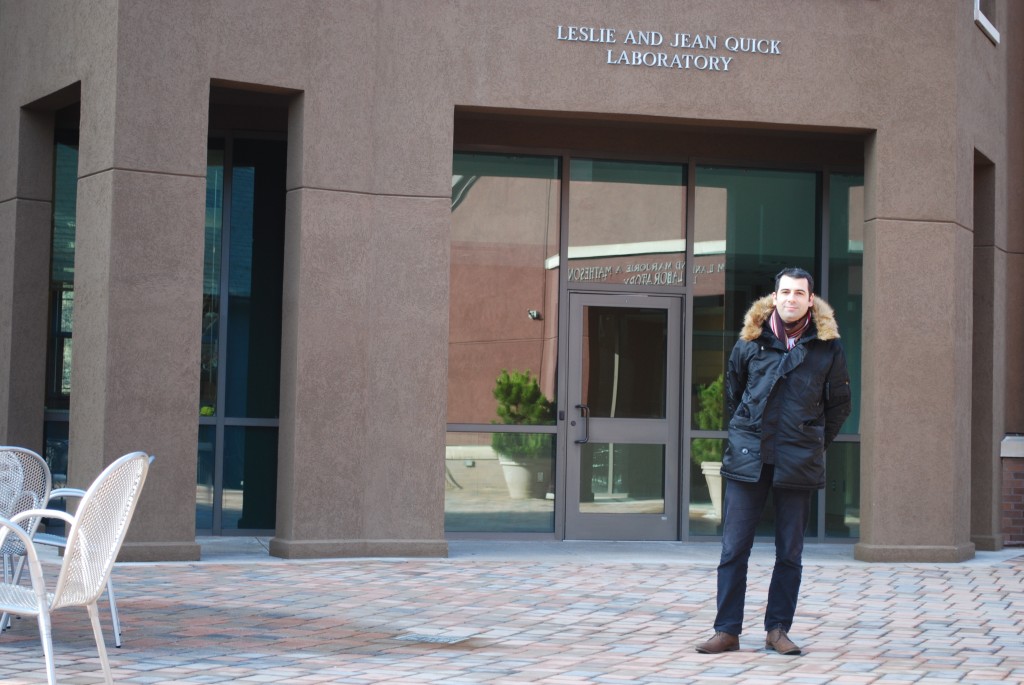 Nicki's Smile, which is a fund of Pancreatic Cancer UK, is delighted to announce that for the past year they have been working with Vinson & Elkins as the firm's UK Charity of the Year for 2012. The firm has already raised £5,000 for Nicki's Smile!
Vinson & Elkins is a global law firm, with its headquarters in Houston, Texas. The firm currently has approximately 700 lawyers.
Dan Blake, Chair of Nicki's Smile said, "We are extremely grateful to the UK office of Vinson & Elkins LLP for choosing us as their Charity of the Year. We are delighted to be associated with this prestigious firm and very much appreciate their fundraising efforts."
Susan Curtis-Griffiths, Director of Administration – EMEA & Charity Co-ordinator, Vinson & Elkins LLP commented, "We are delighted to support Nicki's Smile and help raise much needed funds for their early diagnosis initiatives"
For further information, please contact info@nickissmile.com


On 18 November 2012 more than 300 people packed out Hasmonean Girls' High School in Mill Hill, London for a supper quiz to raise money for Nicki's Smile. The event raised more than £6,000 and has taken fund raising past the £300,000 mark since the fund launched in early 2011.
The quiz, featuring teasers such as "To the best of our knowledge what is the nationality of the main character in Jack and the Beanstalk?" was expertly hosted by the incomparable QuizQuizQuiz and carnivores feasted on the gastronomic delicacies provided by The Aviv Restaurant.
Dan Blake, Chair of Nicki's Smile, said: "The last two years have been incredibly difficult, but it is comforting to see how successful our events have been and that an incredible amount of money has been raised in Nicki's memory".