Dan
This user hasn't shared any biographical information
Posts by Dan

They may not have crossed the finish line first but the Nicki's Smile runners will have felt like winners by raising an incredible £39,000 at the 2013 London Marathon.
On an unexpectedly warm spring day nearly 40,000 runners took to the streets of London including eight wearing the purple of Nicki's Smile and Pancreatic Cancer UK. They were cheered on by half a million people who lined the route to offer their support as well as soak up the sun.
The team from XL Insurance who have chosen Nicki's Smile as their UK Charity of the Year included James Martin, Philip Hogg, Claire Paternoster, James Benn and Teresa Ngeow and were led home by the speedy Jack Morris in a time of 3h 15m.
After he had recovered his breath, team leader James Martin commented, "That has to be the toughest physical and mental challenge I have ever faced but was also one of the best days of my life.  The atmosphere and support from the crowds all the way along the route was simply unbelievable.  Plus we mustn't forget that we've raised a huge amount of money for charity which was a huge motivator on the day.  We are all extremely grateful to everyone who sponsored us.  Now I think we all deserve a bit of a rest, and maybe a couple of beers."
Marc Cane also shared his thoughts, "A massive thank you to those who sponsored me to run this year's London Marathon, the money will help to conduct vital research into Pancreatic Cancer. Without the support of the many donors and the estimated 500,000 spectators I couldn't have completed the 26.2 miles. All those people cheering my name around the course and particularly my friends and family at the key stages of half way and near the end made it a very emotional and exciting experience. I can't wait to run it again!"
Rob Fosterman had the marathon under control, at least for a period, "I found it great until about mile 16 and was on pace with my timings, but the warm weather, the need to take on more liquid and the lack of shade made it tough, both physically and mentally."
However help was on hand from the famously supportive London crowd and also an unexpected source, "Once I passed mile 23 and hit the Embankment it was fine, as you know you are near the end. I took my headphones off and just let the crowd take me home and tried to pick up my pace as much as my body would let me. That is definitely the best part, but it is tough to enjoy. Having Alex Oxlade-Chamberlain (Arsenal and England) hand me a Lucozade and tell me to keep going was a nice touch!"
Rob summed up what running for Nicki's Smile meant for him, "You remember it is for a great cause, people have been incredibly generous with their sponsorship – which I am grateful for, and it really is a great thing to have done and a great cause to raise money for."
If you are interested in being part of the Nicki's Smile team for the 2014 London Marathon then please contact info@nickissmile.com for more information.

The final training runs have been completed and with the London marathon just five days away eight athletes are now set to raise thousands of pounds for Nicki's Smile.
The effort is spearheaded by the team from XL Insurance who have chosen Nicki's Smile as their UK Charity of the Year and consisting of James Martin, Philip Hogg, Claire Paternoster, James Benn, Teresa Ngeow and Jack Morris have together raised over £30,000.
Whilst for some of the XL Insurance team it will be their first experience of running 26.2 miles for Teresa Ngeow it will be her seventh marathon in total and second of the week after successfully completing the Brighton marathon on Sunday!
With Rob Fosterman and Marc Cane also running the marathon and Debbie Ferrer running the BUPA 10k in May a further £5,000 should be added to the total with the combined efforts of all the athletes meaning that over £35,000 is set to be raised for Nicki's Smile.
Through a seemingly never-ending winter the Nicki's Smile runners have endured wind, rain, snow and freezing temperatures as well as overcoming numerous injuries in an effort just to arrive at the start line. Running his second marathon, and with both knees bearing scars of serious operations, Rob Fosterman certainly won't miss 20 mile training runs through a blizzard and is looking forward to a drop of alcohol as he crosses the finish line.
Neither beating the course record of 2h 4m 40sec nor running further than Mo Farah in his London (half) marathon debut have been the motivation for the hundreds of miles covered during training. Each athlete has their own personal reasons for running – whether it's ticking something off a bucket list or proving their spouses wrong – and also their own reasons for wanting to support Nicki's Smile.
This is a subject especially close to home for some of the team who either knew Nicki or have lost close family or friends to pancreatic cancer. As they have learnt more about Nicki's Smile and about pancreatic cancer they have become even more motivated to raise funds for research into early diagnosis techniques and help improve the horrifying survival statistics: more than 8,350 people in the UK are diagnosed every year and of these, fewer than 20% survive more than 12 months and only around 4% survive for 5 years or more.
The support on the streets of London for the runners on race day is legendary and James Martin commented on the support that the XL Insurance runners had received in the build-up, "The team has been overwhelmed by the support they have received from friends, family and colleagues all around the world and want to say a huge thank you to everyone who has sponsored them so far."
There are still five days to contribute on one of the links above and you can also come down and support the whole team on Sunday. Nicki's Smile will be tweeting from the marathon so follow us @NickisSmile and don't forget to tell us where you're standing on the course on the big day.

By Dan Summers, Nicki's Smile committee member
In July 2012 Nicki's Smile committed £125,000 to a research study aimed at the earlier detection of pancreatic cancer. On 29 January 2013 I visited Cold Spring Harbor Laboratory (CSHL), New York where this research is being conducted under the supervision of Dr David Tuveson MD, PhD.
On a cold winter's day I took the Long Island Rail Road out of Penn station, Manhattan, arriving one hour later at CSHL's scenic main campus which spans approximately 120 acres along the western shore of Cold Spring Harbor on the north shore of Long Island.
Since being founded in 1890, CSHL has been home to eight Nobel laureates including Dr. James Watson, co-discoverer of DNA's double helix. Today CSHL is a preeminent international research institution, achieving breakthroughs in molecular biology and genetics and enhancing scientific knowledge worldwide.
My host for the day was Dannielle Engle, a postdoctoral fellow, who explained that the summer of 2012 saw her initial challenge being to facilitate the relocation of the Tuveson laboratory to CSHL from Cambridge University. The transfer was finally completed in August, moving in to the recently opened Leslie and Jean Quick Laboratory, but two months later Hurricane Sandy led to the temporary suspension of operations. Fortunately CSHL survived the elements intact and subsequently supported other cancer research facilities in the New York area get back on their feet after power outages led to the loss of research.
During the tour of the state-of-the-art laboratory and campus it was explained to me that the study focusing on pancreatic neuroendocrine cancer that Nicki's Smile is helping to fund has two aims. The first is to create a model that can produce circulating blood proteins similar to the main tumour marker (CA19-9) used in the clinical management of patients with pancreatic cancer. The second is to use this model to look for novel diagnostic biomarkers. Whilst still at an early stage of model development and validation the overall goal is develop these biomarkers through clinical testing as a test for pancreatic cancer detection and treatment monitoring.
The immediate challenges in the coming months include continued development of the modeling process and boosting the number of staff working in the Tuveson laboratory. With thanks to Dannielle Engle and the team at the Tuveson laboratory for their hospitality and taking time out of their research to show me around the impressive facilities at CSHL.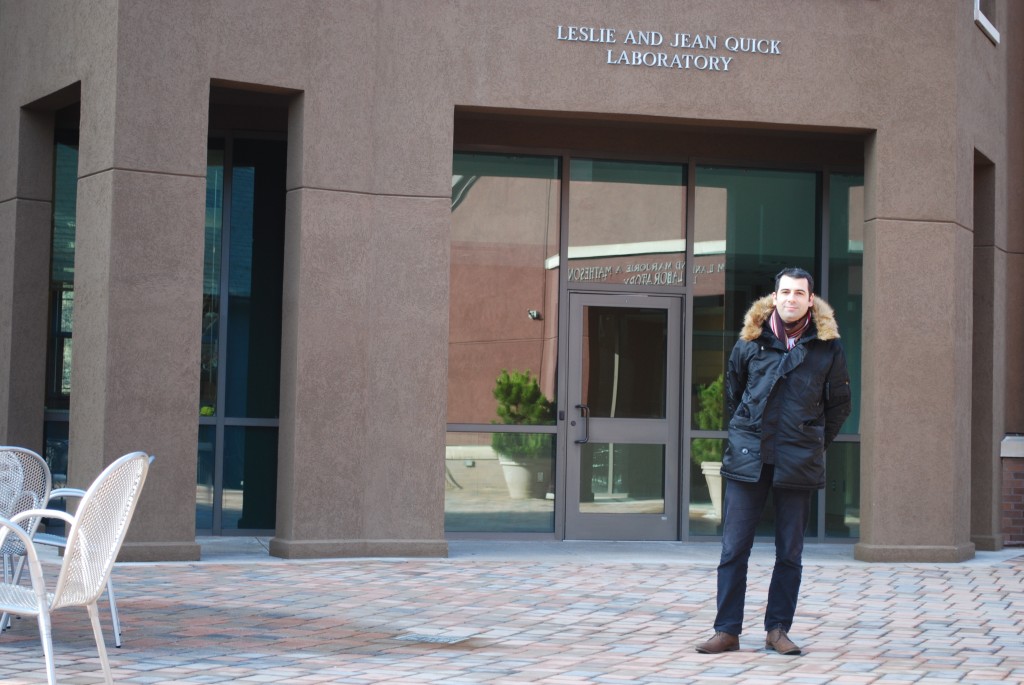 Nicki's Smile, which is a fund of Pancreatic Cancer UK, is delighted to announce that for the past year they have been working with Vinson & Elkins as the firm's UK Charity of the Year for 2012. The firm has already raised £5,000 for Nicki's Smile!
Vinson & Elkins is a global law firm, with its headquarters in Houston, Texas. The firm currently has approximately 700 lawyers.
Dan Blake, Chair of Nicki's Smile said, "We are extremely grateful to the UK office of Vinson & Elkins LLP for choosing us as their Charity of the Year. We are delighted to be associated with this prestigious firm and very much appreciate their fundraising efforts."
Susan Curtis-Griffiths, Director of Administration – EMEA & Charity Co-ordinator, Vinson & Elkins LLP commented, "We are delighted to support Nicki's Smile and help raise much needed funds for their early diagnosis initiatives"
For further information, please contact info@nickissmile.com


On 18 November 2012 more than 300 people packed out Hasmonean Girls' High School in Mill Hill, London for a supper quiz to raise money for Nicki's Smile. The event raised more than £6,000 and has taken fund raising past the £300,000 mark since the fund launched in early 2011.
The quiz, featuring teasers such as "To the best of our knowledge what is the nationality of the main character in Jack and the Beanstalk?" was expertly hosted by the incomparable QuizQuizQuiz and carnivores feasted on the gastronomic delicacies provided by The Aviv Restaurant.
Dan Blake, Chair of Nicki's Smile, said: "The last two years have been incredibly difficult, but it is comforting to see how successful our events have been and that an incredible amount of money has been raised in Nicki's memory".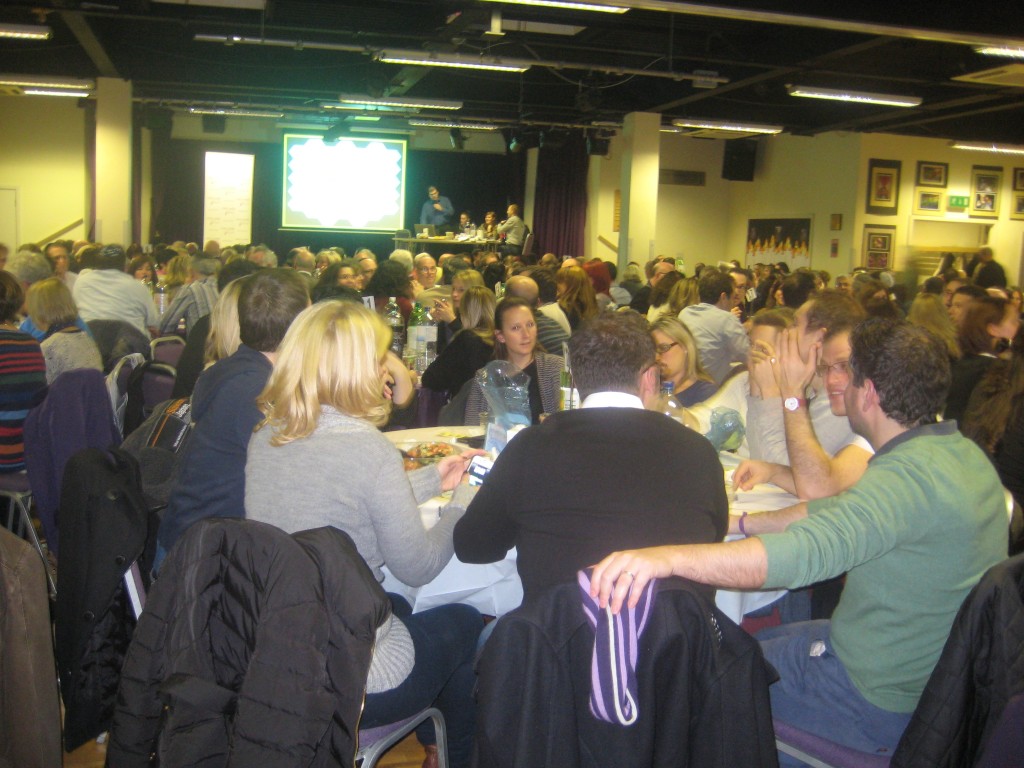 It was an incredible honour to be chosen to run with the Olympic Torch on Monday 23rd July.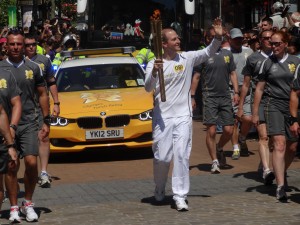 Sadly, and as the followers of Nicki's Smile know, there is a tragic story behind my nomination. To give you some background, here is the nomination application from my mum, taken from the London 2012 torchbearer website:
"My son`s young wife died of cancer in November 2010 aged 33. As well as leaving him absolutely devastated he was faced with the daunting task of bringing up a bereft 3 year old son. In the past months he has pushed himself to the limits in his role as a single parent. His strength has been incredible to behold. When his wife became ill he shouldered his responsibilities unwaveringly. He cared for her with unending love and devotion and was by her side every single step of the way, never missing a single hospital test or treatment.
He has now adopted such a role with his young son Joshua and has given up his career in the city while he ensures that Joshua has a loving and stable home. And through all of this he has never once complained about his lonely and difficult situation. He has set up a charity in memory of his beloved wife ring- fenced by Pancreatic Cancer U.K. and has already raised a considerable amount of money towards ensuring earlier diagnosis of this terrible disease. The charity is called Nicki`s Smile (www.nickissmile.com) because that is what she did until the day she died, never complaining or asking why.
I feel that if he were lucky enough to be chosen to bear the torch it would be an amazing symbol of hope for him and would also show that he and Joshua, are carrying her light & legacy forward. He is determined, that by trying to help others beat this awful disease then Nicki did not die in vain."
So what's a day in the life of a torchbearer like?
It was a particularly early start as Channel 5 News had kindly offered to follow me on the day. I must thank their Senior Programme Editor Richard Zackheim for arranging this. The help and support Channel 5 News has provided in raising the profile of Nicki's Smile has been phenomenal.
Filming commenced at 6.30am and I then departed for my torchbearer meeting point in Croydon. The nerves were really starting at this point as the sheer enormity of the occasion suddenly dawned on me. I donned my uniform and then met and chatted to my fellow torchbearers.
I was slightly surprised by the eclectic mix of torchbearers. Some were rightly chosen for their incredible community and voluntary sector efforts. Others were chosen for very different reasons – they were board members of global corporations. A sign of the sponsorship times we live in. We were joined by one celebrity, Sir Patrick Stewart and he was incredibly moved by the occasion.
After meeting and greeting, we were given a briefing by the 2012 torch team. It wasn't rocket science, but we were advised where to stand, how to hold the torch and how fast we should walk/jog. We were then taken to our torchbearer bus and departed for our drop-off locations. We were all overwhelmed by the incredible public turnout. As I reached my drop-off in the busy Pedestrianised Shopping Area, the crowd was so deep the bus struggled to pass!
I left the bus to rapturous applause from my fellow torchbearers and entered a cauldron! I couldn't believe how many people had come to see me run! I was quickly mobbed my people wanting their photo with the torch. I duly obliged and then realised how famous people must feel whenever they go out in public.
My few moments of fame had arrived. I could see the previous torchbearer running towards me and I was then beckoned into position. We shared a 'torch kiss' and after posing for media photos I then set off on my 280 yard journey.
At this point the nerves had evaporated. I was soaking up the incredible atmosphere, waving to one and all in the crowds. I spotted my family and friends but was unable to stop. Before I knew it, my run was over and I passed the flame to the next torchbearer. As I was whisked onto my torchbearer bus I saw many familiar faces in the crowd! They started chanting my name and everyone else followed! It spread to the rest of the surrounding crowd and I was left speechless. What a few moments of fame!
I was presented with my torch at the drop-off point and after finishing the Channel 5 News interview I then met up with my family before heading home.
It meant the world to me to be a torchbearer. The sole reason I was chosen was because of Nicki's passing and how I am treasuring her memory through my charitable efforts.
It was an incredible and emotional day. I was really touched to see so many members of my family and friends and the thousands of local residents that came to support me. It was fantastic to see so many Bushey congregants there. I will never forget the way Rabbi Richards and others led the crowd in chanting my name!
The atmosphere was electric. I was carrying the torch for Nicki and I know she was smiling down on a truly beautiful day. The torch will be passed down through the generations and treasured for eternity. It was a day I will never forget.
Nicki's Smile, a fund of Pancreatic Cancer UK, is delighted to announce it is to contribute £125,000 to a research study that is aimed at identifying pancreatic cancer earlier.
The study, led by Dr David Tuveson MD, PhD, will include a focus on pancreatic neuroendocrine cancer and has two aims. The first is to create a model that can produce circulating blood proteins similar to CA19-9, which is the main tumour marker used in the clinical management of patients with pancreatic cancer. The second is to use this model to look for novel diagnostic biomarkers. The overall goal is develop these biomarkers as a test for pancreatic cancer detection and treatment monitoring.
The proposal for this research was peer reviewed by our Scientific Advisory Board and has been rated as internationally competitive or higher.
The research will be conducted in collaboration with Professor Martyn Caplin, who was Nicki's consultant. He holds the position of consultant in gastroenterology and hepatobiliary medicine and lead neuroendocrine clinician at the Royal Free Hospital in London. The work will commence in August and will be based at Professor Tuveson's new laboratory at Cold Spring Harbor, New York with close links to the team staying in Cambridge who are completing the first part of the work.
Dan Blake, comments, "I am thrilled that Nicki's Smile has been able to fund a pioneering early diagnosis research project. Our aim is to improve the awful pancreatic cancer survival statistics and the key to this is innovative early diagnosis research. I am also delighted that Nicki's consultant, Professor Martyn Caplin, will be involved to provide his invaluable input on neuroendocrine tumours."
Alex Ford, Chief Executive, Pancreatic Cancer UK, adds, "I am delighted we have been able to finalise this grant, which is in line with the objectives of the Nicki's Smile fund and provides us with a very effective blueprint for any international grants we award in the future."
This grant demonstrates our commitment to funding the best quality research across the world. Although Professor Tuveson is based in the US, the results will be of benefit to all patients whether in the UK or elsewhere. This could provide a great step forward in driving early detection and therefore potentially improved prognosis and treatment.

My very close friend Matt Hersch, recently finished the gruelling Lands' End to John O'Groats bike ride.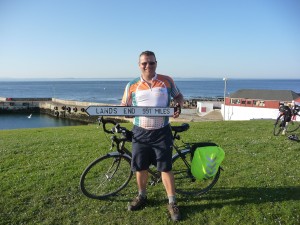 It was tough, physically and mentally, but Matt overcame all obstacles along the way to complete the daunting challenge!
Matt successfully completed the 1000 mile event in just two weeks and raised an incredible £9,000 for Nicki's Smile. Matt has been an inspiration to many and spent over a year in training for this event. Matt is a Senior Clinical Project Manager for a pharmaceuticals company and lives in Cambridge.
Get Motivated! Be in touch to see how you can help to raise money for Nicki's Smile!
Coverage from the Watford Observer:
A father-of-one from Bushey has been selected out of thousands of applicants to act as an Olympic torchbearer.
For Dan Blake, of Wendover Way, the chance to have such a pivotal role in run up to the games will be particularly poignant, he said, as he will be carrying the torch in memory of his late wife Nicki.
The 35-year-old said: "Nicki passed away 17 months ago at the age of 33 from pancreatic cancer.
"It was sudden, she had complained of pains in her stomach and back six weeks after giving birth to our son Joshua.
"At first her condition was put down to bending and lifting a newborn baby, and she was given anti-inflammatory medication.
"Then doctors thought it was gall stones. But an ultrasound and CT scan found that in fact she had pancreatic cancer."
Despite undergoing many bouts of chemotherapy, endoscopies and targeted radionuclide therapy, the disease had spread from her pancreas to her liver and bones and she passed away on November 11, 2010.
Mr Blake's mother Cynthia nominated her son for the torchbearer role, describing to organisers the heartache he and her grandson have endured since Nicki's initial diagnosis and death.
Mr Blake said: "My mum relayed what a gaping hole Nicki has left in our lives. She also highlighted that I have been fundraising for, and trying to raise awareness of, pancreatic cancer.
"I have set up a charity Nicki's Smile, which is acting as a fundraising arm of Pancreatic Cancer UK, and since it launched in February last year, £270,000 has been raised for the charity.
"Not enough people know about pancreatic cancer, in terms of research and development, it is an illness which has stalled. Breast and testicular cancer, there have been developments with regard to treatment, but because pancreatic cancer is so hard to diagnose, there has been no progress.
"We live in a developed part of the world, yet about 8,000 people a year are diagnosed with pancreatic cancer, and most will die from the disease. It's ridiculous.
"I want to change that, if I can raise money for research, if I can make people aware of pancreatic cancer, if I can save a life, then everything me and Joshua have been through will all be worthwhile.
"It's difficult to lose your wife, we had so many plans. It's difficult for Joshua to lose his mother – especially at such a young age. But we get by and we want something positive to come from Nicki's death."
At present the family are busy organising a fundraising magic event at Finchley Arts Centre on May 13.
But on July 23, Mr Blake will walk about 300 metres, carrying his torch, through Croydon.
Despite not knowing his route yet, the law student, who gave up his career in the city to care for Joshua, will be wearing a white shellsuit at the event.
He said: "I'm hoping to include something that will identify the charity, but it's very strict.
"My family and friends will be cheering me along and I'm also hoping to get Joshua to walk alongside me.
"It's a fantastic chance to be part of something really memorable and as I'll get to keep the torch, I'll be sure to pass it on to Joshua, so it'll pass through the generations to come."
Nicki's Smile, which is a fund of Pancreatic Cancer UK, is delighted to announce that they have been chosen as XL Group's UK Charity of the Year for 2012-2015.
XL Group is a global financial services company, specialising in Insurance and Reinsurance.  They currently employ over 4,000 staff worldwide and around 700 in the UK.  Over the next three years, it is hoped that the XL Group will donate over £100,000 to Nicki's Smile.
Nicki's Smile was set up in memory of Nicki Blake who lost her 2-year battle with pancreatic cancer in November 2010 aged just 33, leaving behind her husband Dan and 3-year old son Joshua.  Over a year before she was diagnosed Nicki had been to hospital suffering from severe abdominal pain but the warning signs for cancer growth in the pancreas were not picked up and she was sent home.  Had the doctors spotted the growth at this point Nicki may well have survived, however by the time they found it the cancer had spread and it was too late.
Pancreatic Cancer UK is the only national charity dedicated to fighting pancreatic cancer on all fronts: through support, information, research and campaigning.
Pancreatic cancer is the 5th most common cause of cancer death in Europe and the USA and is one of the most lethal cancers in the UK.  Over 8,000 people in the UK are diagnosed every year, of which fewer than 20% survive more than a year and less than 3% live for more than 5 years.  Despite these horrifying statistics pancreatic cancer research remains very much under-funded.  In recent months its profile has been raised following the deaths of Patrick Swayze and Steve Jobs, however there remains a real problem with diagnosing the disease early enough for effective treatment to take place.
Dan Blake said, "We are extremely grateful to everyone at the XL Group in the UK who gave us and Pancreatic Cancer UK the opportunity to be their Charity of the Year.  Our vision is to be a catalyst for improving life expectancy and survival rates for patients with pancreatic cancer by funding research into understanding how symptoms can be more accurately identified, thereby aiding early diagnosis.  If we can make a difference to even one person, then Nicki's death would not have been in vain."
James Martin, Chair of the UK Charity Committee at XL Group commented, "We are absolutely thrilled to be in partnership with this extremely important organisation and look forward to working with Dan, Nicki's Smile and Pancreatic Cancer UK to raise crucial funds and increase the profile of this great cause."
Alex Ford, CEO of Pancreatic Cancer UK, said, "We are very grateful that Nicki's Smile and Pancreatic Cancer UK have been chosen by XL Group's UK employees to be their Charity of the Year.  Pancreatic cancer research is very under-funded so this type of financial support is invaluable in the fight against this dreadful disease."
Nicki's Smile next fundraising event is 'An Evening of Magic', at the Finchley Arts Depot, 5 Nether Street, London, N12 0GA on Sunday 13th May 2012.
For further information, please contact info@nickissmile.com.