Together we can raise vital funds to support specific initiatives aiding research and early diagnosis of Pancreatic Cancer and giving it the higher priority it desperately needs.
WE NEED YOUR HELP TODAY:
VISIT Nicki's Smile's Justgiving Page to DONATE ONLINE today OR click on the links below to sponsor our amazing supporters!
HELP US to raise the profile of Nicki's Smile so that more people can get involved – SHARE THIS SITE ON YOUR SOCIAL NETWORKS!
PLAN your own fundraising event and get your friends and family involved – Contact us for ideas!
Current and Past Fundraising Events
The 2014 London Marathon
Adam Myeroff – Please click on Adam's name to visit his fundraising page!
Simon Kutner – Please click on Simon's name to visit his fundraising page!
The Milton Keynes half marathon on 4th March – Emma Geller
The London Marathon on 22nd April – Lisa Rockett
"I am running in my third London Marathon in 2012 and this time I am running to raise money for an incredible charity – Nicki's Smile. Nicki was a dear friend of some of my friends and I was so touched by her story I wanted to help raise money to aid early diagnosis and awareness and ultimately raise the survival rates and fight Pancreatic Cancer…"
From Land's End to John O'Groats in May – Matt Hersch

"For those that know me, i am not a cyclist, i prefer 4 wheels to 2.  However, on 12th May 2012, i will put my feet on my pedals at Land's End, Cornwall, and start the 1000mile cycle to John O'Groats, Scotland.  It will take me 2 weeks, and about 75miles per day.  I'll try and keep people up to date on my progress…Anything you can give will make a difference."
Nike Run to the Beat for Nicki's Smile – James Martin

"9 months ago my wife's first cousin, Nicki Blake, tragically lost her battle with pancreatic cancer, aged just 33.  She left behind her husband, Dan, and their 3-year-old son, Joshua.
On the 25th September I will be running a half marathon through the streets of Greenwich in aid of Nicki's Smile – a fund set up by Dan in her memory…"
Land's End to London for Nicki's Smile – Daniel Miller
"I'm cycling from Land's End to London inside four days with a couple of friends starting on 23 June in aid of my friends' recently formed charity Nicki's Smile. Given I love nothing more than sitting on my couch, this 350-odd mile ride together with training rides from North London to and from Brighton and the New Forest amongst others and cycling to work in White City every (almost every) day is surely worth a few quid let alone the worthwhile charity I'm raising money for."
Little Green School for Nicki's Smile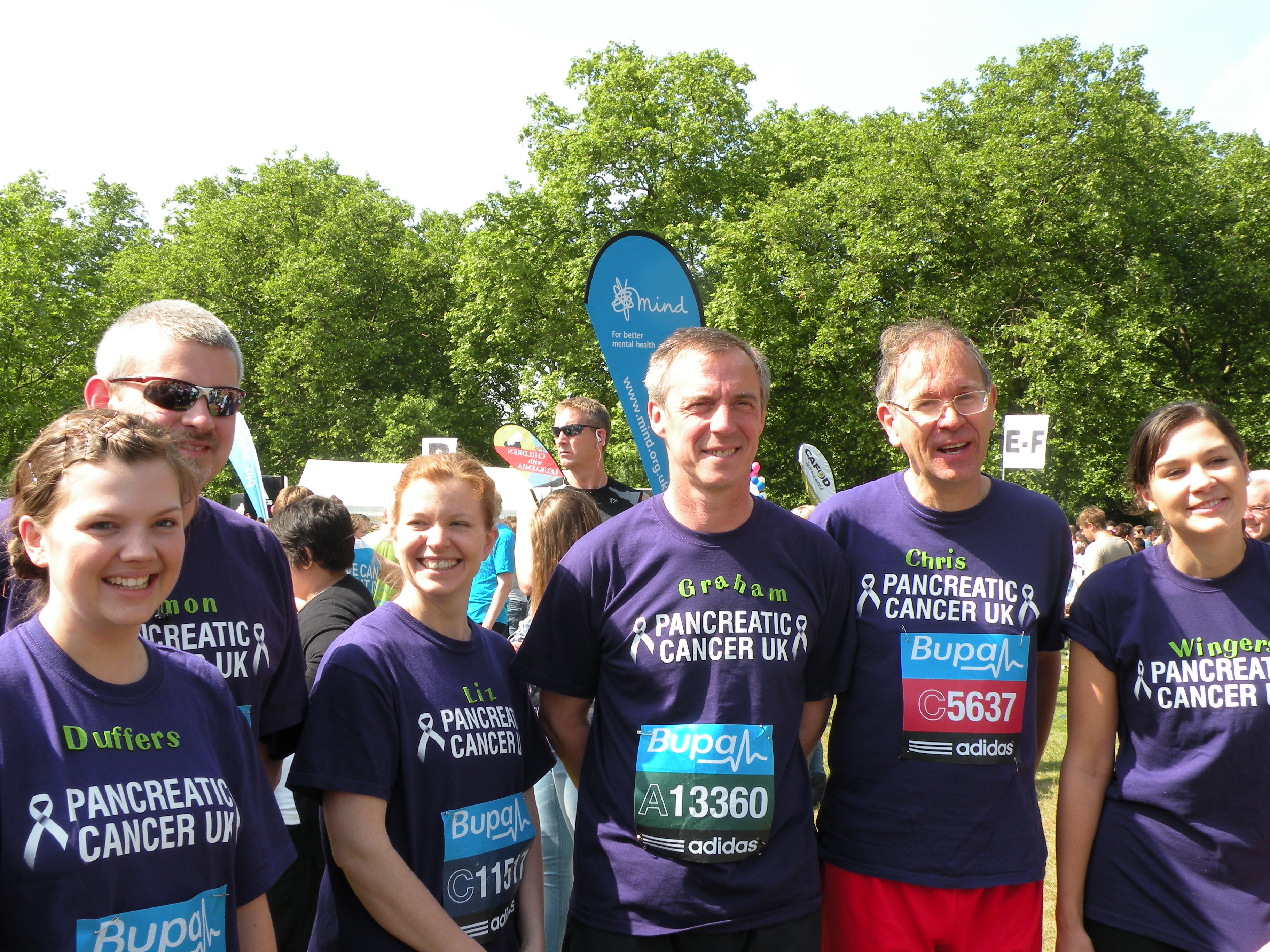 "In November 2010, Little Green Junior School received the very sad news that one of its long serving teachers, Mrs Nicola Blake had succumbed to pancreatic cancer after a lengthy battle against the disease. She was 33 and left husband, Daniel and 3 year old son, Joshua.
Daniel Got in touch and informed us that he has set up a research fund, 'Nicki's Smile', in conjunction with Pancreatic Cancer UK. This aims to raise £50,000 over the next five years to fund research into early diagnosis. (One of the reasons that pancreatic cancer has such a low survival rate is that its is often detected too late for effective treatment.) 
 To help towards this, several of the staff, accompanied by Chris Lloyd, Chair of Governors, will be running for the charity in the BUPA London 10k in May. We will be hoping that lots of the current and past members of the school community will wish to support us with sponsorship, as we have set ourselves a target to raise £1750. "