It was an incredible honour to be chosen to run with the Olympic Torch on Monday 23rd July.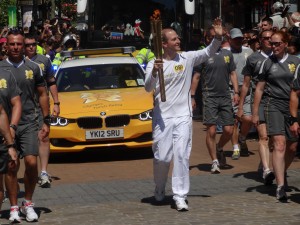 Sadly, and as the followers of Nicki's Smile know, there is a tragic story behind my nomination. To give you some background, here is the nomination application from my mum, taken from the London 2012 torchbearer website:
"My son`s young wife died of cancer in November 2010 aged 33. As well as leaving him absolutely devastated he was faced with the daunting task of bringing up a bereft 3 year old son. In the past months he has pushed himself to the limits in his role as a single parent. His strength has been incredible to behold. When his wife became ill he shouldered his responsibilities unwaveringly. He cared for her with unending love and devotion and was by her side every single step of the way, never missing a single hospital test or treatment.
He has now adopted such a role with his young son Joshua and has given up his career in the city while he ensures that Joshua has a loving and stable home. And through all of this he has never once complained about his lonely and difficult situation. He has set up a charity in memory of his beloved wife ring- fenced by Pancreatic Cancer U.K. and has already raised a considerable amount of money towards ensuring earlier diagnosis of this terrible disease. The charity is called Nicki`s Smile (www.nickissmile.com) because that is what she did until the day she died, never complaining or asking why.
I feel that if he were lucky enough to be chosen to bear the torch it would be an amazing symbol of hope for him and would also show that he and Joshua, are carrying her light & legacy forward. He is determined, that by trying to help others beat this awful disease then Nicki did not die in vain."
So what's a day in the life of a torchbearer like?
It was a particularly early start as Channel 5 News had kindly offered to follow me on the day. I must thank their Senior Programme Editor Richard Zackheim for arranging this. The help and support Channel 5 News has provided in raising the profile of Nicki's Smile has been phenomenal.
Filming commenced at 6.30am and I then departed for my torchbearer meeting point in Croydon. The nerves were really starting at this point as the sheer enormity of the occasion suddenly dawned on me. I donned my uniform and then met and chatted to my fellow torchbearers.
I was slightly surprised by the eclectic mix of torchbearers. Some were rightly chosen for their incredible community and voluntary sector efforts. Others were chosen for very different reasons – they were board members of global corporations. A sign of the sponsorship times we live in. We were joined by one celebrity, Sir Patrick Stewart and he was incredibly moved by the occasion.
After meeting and greeting, we were given a briefing by the 2012 torch team. It wasn't rocket science, but we were advised where to stand, how to hold the torch and how fast we should walk/jog. We were then taken to our torchbearer bus and departed for our drop-off locations. We were all overwhelmed by the incredible public turnout. As I reached my drop-off in the busy Pedestrianised Shopping Area, the crowd was so deep the bus struggled to pass!
I left the bus to rapturous applause from my fellow torchbearers and entered a cauldron! I couldn't believe how many people had come to see me run! I was quickly mobbed my people wanting their photo with the torch. I duly obliged and then realised how famous people must feel whenever they go out in public.
My few moments of fame had arrived. I could see the previous torchbearer running towards me and I was then beckoned into position. We shared a 'torch kiss' and after posing for media photos I then set off on my 280 yard journey.
At this point the nerves had evaporated. I was soaking up the incredible atmosphere, waving to one and all in the crowds. I spotted my family and friends but was unable to stop. Before I knew it, my run was over and I passed the flame to the next torchbearer. As I was whisked onto my torchbearer bus I saw many familiar faces in the crowd! They started chanting my name and everyone else followed! It spread to the rest of the surrounding crowd and I was left speechless. What a few moments of fame!
I was presented with my torch at the drop-off point and after finishing the Channel 5 News interview I then met up with my family before heading home.
It meant the world to me to be a torchbearer. The sole reason I was chosen was because of Nicki's passing and how I am treasuring her memory through my charitable efforts.
It was an incredible and emotional day. I was really touched to see so many members of my family and friends and the thousands of local residents that came to support me. It was fantastic to see so many Bushey congregants there. I will never forget the way Rabbi Richards and others led the crowd in chanting my name!
The atmosphere was electric. I was carrying the torch for Nicki and I know she was smiling down on a truly beautiful day. The torch will be passed down through the generations and treasured for eternity. It was a day I will never forget.