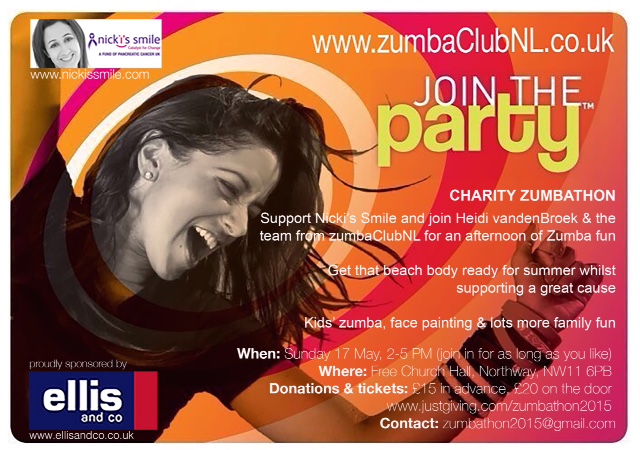 Often wondered what Zumba was all about? Are you an experienced Zumba dancer looking to refine your moves?
Zumba has taken the country by storm over the last few years and now's your chance to join the latest dance fitness craze in support of Nicki's Smile. 
Heidi VandenBroek & the team from zumbaClubNL are hosting a Zumbathon for all levels of Zumba fans, from the super enthusiast to the extreme novice. Come get that beach body ready for summer whilst supporting Nicki's Smile to aid research into early diagnois of pancreatic cancer. It's a great way to get in shape, learn some seriously aerobic Latin American dance moves and make friends at the same time, while dancing to some fabulous music.
If that wasn't enough for you, there's Kids Zumba, face painting, a craft table, football game and loads of toys to keep the little ones (and other halves) occupied while you get down and Zumba.
The Zumbathon runs from  2pm to 5pm on Sun 17th May at the Free Church Hall, Northway, NW11 6PB, so come for as long or as little as you like. Entrance is £20 on the door but you can buy tickets in advance for £15 from www.justgiving.com/zumbathon2015 with all profits going to Nicki's Smile.
For those who want to Zumba for the full three hours, sponsorship forms are available.
Got any questions? Contact zumbathon2015@gmail.com, otherwise buy your tickets and get ready to Zumba!
Facebook event page: https://www.facebook.com/events/1383097492008737/
Special thanks to Heidi and team and Ellis and Co for making this event possible.