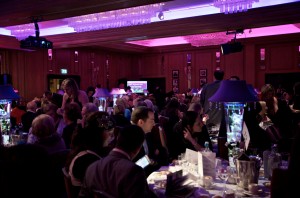 On the evening of Sunday 20th November 2011, we held our inaugural event, a fundraising dinner at Sopwell House in St. Albans.  Three hundred and thirty people attended including Maureen Lipman CBE, Strictly Come Dancing favourite, Rachel Stevens and stand-up comedians, Ian Stone and Mark Maier.
Nicki's Smile was set up in memory of Nicki Blake.  Nicki was a young wife and mother from Bushey who taught at Little Green Junior School in Croxley Green.  She lost her twenty month battle with Neuroendocrine Pancreatic Cancer, the same rare type of cancer as Steve Jobs, in November 2010, aged just 33, leaving behind her devoted husband Dan Blake and 3 year old son, Joshua.
Dan Blake set up Nicki's Smile in memory of his wife, together with Pancreatic Cancer UK, the only national charity dedicated to fighting pancreatic cancer through support, information, research and campaigning.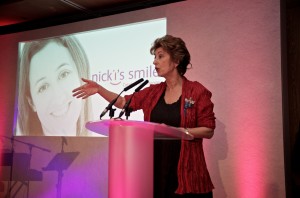 After the event Dan Blake said, "The launch fundraising dinner was an amazing success and I'm delighted that we raised over £100,000.  To date Nicki's Smile has raised an astounding £150,000 and the money will be used to fund vital research into early diagnosis of pancreatic cancer with the aim of improving survival rates that have been dormant for a generation. The goal is to ensure that in the future, pancreatic cancer's awful survival statistics are improved. Better understanding, early diagnosis initiatives and improved treatment options can make this a reality."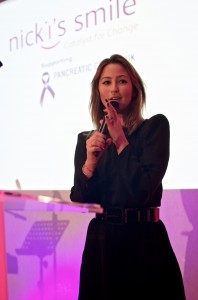 Professor Martyn Caplin, Professor of Gastroenterology and Neuroendocrine Oncology at the Royal Free Hospital, London, where Nicki was treated said, "The evening was a wonderful tribute to Nicki Blake and how bravely she fought her pancreatic neuroendocrine cancer. It is the memory of Nicki and other similar courageous patients that drives our research team to strive for advances in earlier diagnosis and better treatment so that future patients with these rare cancers can benefit with longer survival."
Maureen Lipman, CBE, commented, "I am delighted to be associated with such a worthy cause.  I really hope that the money raised by Nicki's Smile will prevent other families suffering the same pain as Nicki Blake's loved ones.  Pancreatic cancer research is very underfunded so charities such as Pancreatic Cancer UK and Nicki's Smile are vitally important in the fight to improve survival statistics."
Rachel Stevens, commented, "As a mother I can't imagine the anguish that Nicki Blake went through when she thought that she might not be around to see her gorgeous son Joshua grow up.  I hope that the research funded by Nicki's Smile will one day prevent this from happening to another family."
Click here to donate today.